The Ins And Outs Of Steeping E-Juice
The Ins And Outs Of Steeping E-Juice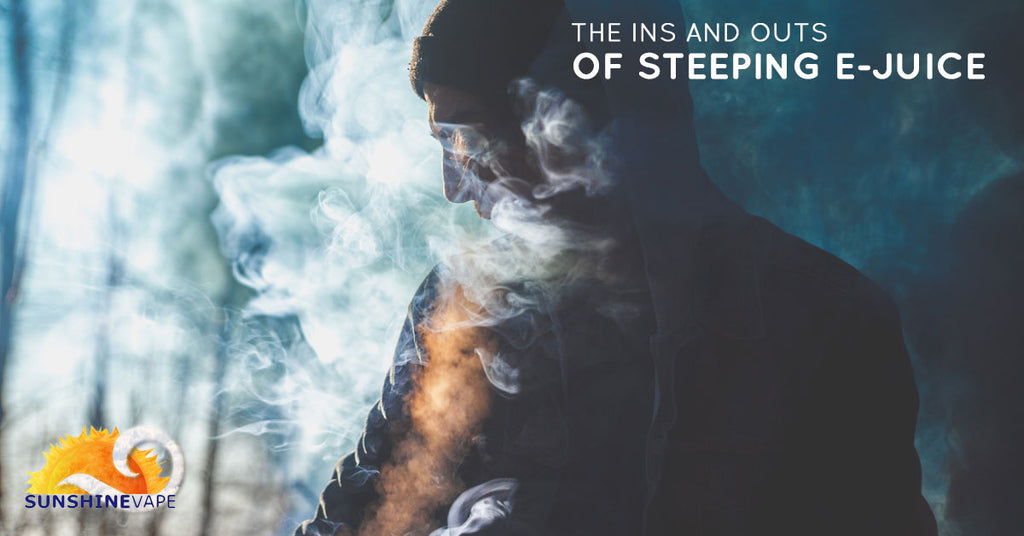 If you're new to vaping, you might be looking at this title thinking "What is steeping and why does it matter? Will this affect my vaping experience?" The answer, of course, is yes and no (life is just too complicated for things to always be black and white). Well, as your go-to shop to buy e-juice here at Sunshine Vape, we thought that our readers should know about the importance of steeping e-liquid and how to go about doing it. Fortunately, steeping e-juice is a fairly simple waiting process, no more difficult than setting up a beginner's vaping kit!
The Best E-Liquid For Sale At Sunshine Vape
For all of your vaping supply needs in the Warwick and South Kingston, Rhode Island areas, Sunshine Vape has you covered! We also offer a fantastic selection of cheap vape liquid and the best e-liquid flavors that can satisfy just about every flavor that the user desires. Check out our incredible selection of vape liquid flavors and find a new e-liquid that you love by shopping our online store!
Now, we're going to take a good look at steeping your e-juice.
Okay, What
Is
Steeping?
That's a fair question. Steeping refers to the process in which the separate parts within e-juice (vegetable glycerin, propylene glycol, nicotine, and flavorings) bond together to form a cohesive liquid. Through steeping, the components of the e-juice absorb oxygen which can change the appearance of the e-juice as well as the chemical makeup of the ingredients used. In other words, steeping is simply letting your recently-purchased e-juice "set" for a while.
Not All E-Juice Is Made Equal
The thing to keep in mind with steeping e-juice is that not all e-juice needs to be steeped. Indeed, many e-liquid companies create their juice so that it is properly mixed and ready to vape right off the bat. If you're unsure as to whether your e-liquid is good to vape, consider vaping a little bit and assessing the flavor. If it's not to your liking, steeping it for a few days to a few weeks might make a noticeable difference.
It's important to note that vaping unsteeped e-liquid, or e-juice straight from the store or mailbox is not any worse for you than vaping steeped e-liquid. Steeping may very well enhance the flavor profiles, color, and consistency of the e-liquid, but it's also not necessary. Ultimately, it comes down to the preference of the user.
Steeping E-Juice
Though there are more complicated ways to steep your e-liquid from our online vape shop, all you have to do to steep your e-liquid is remove any plastic shrink wrapping on the bottle or container, remove the cap (carefully), and store your juice in a cool, dry and dark location for a few days. It really is that easy! Like the steeping conditions, tightly cap your juice bottles and store them in a cool, dark and dry place, like a cabinet or drawer.
The Right Place To Buy E-Liquid Online
Sunshine Vape understands that there are many places to buy e-liquid with nicotine on the internet, but we think that you'll be quite impressed with our selection of the best e-liquid flavors at reasonable prices. Shop our e-liquid for sale today!