Why People Vape Juice With No Nicotine
Why People Vape Juice With No Nicotine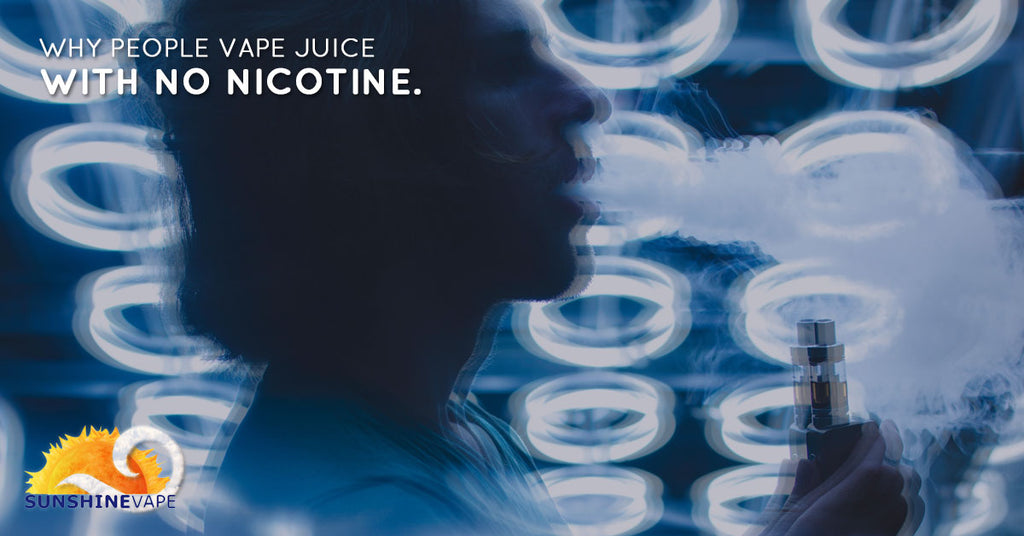 "Wait...people actually vape e-juice that has no nicotine in it?" Yes, dear reader, it is true! While the vast majority of vapers around the world do partake in vaping e-liquid with varying strengths of nicotine, plenty of people enjoy their vaping experience without the buzz. If you're still confused about this (after all, isn't the point of vaping for the buzz?), we completely understand, and that's why we're coming through with a blog post that sheds some light on this topic.
Nicotine Or No Nicotine, Vape With The Best Here At Sunshine Vape
Regardless of your vaping presence, know that you're in good hands when you shop at Sunshine Vape. With a selection of truly unique vape flavors and good vape juice ranging from 0mg vape juice (without nicotine) all the way to full-strength nicotine juice and everything in between, you just won't find discount vape juice like this anywhere else. Buy e-juice today by shopping our main collection of vapor juice!
Tapering Off Of Nicotine
The primary reason that many people continue to vape without the feel-good nicotine buzz is due to the fact that they once did it for the buzz, but gradually decreased the nicotine strength over time until they feel that they no longer need e-juice with any nicotine whatsoever. The evidence is largely anecdotal, but we're seeing more and more reports of longtime cigarette smokers (try finding one of those without nicotine, good luck!) switching to vaping, gradually decreasing the nicotine strength as the months or years go by, and then quitting nicotine altogether.
Vaping As A Ritual
Many people value the vaping experience for more than just the buzz. The ritual of stepping away from the workstation and going outside to catch some fresh air and some puffs is as psychologically satisfying as it is physically satisfying. The simple act of inhaling fresh vapor from delicious tasting e-liquids is also valued by the vaping community. To enjoy virtually any type of e-juice or flavor on the market, you don't have to consume any nicotine at all because most flavors come with a 0mg nicotine strength. So, if you enjoy a particular flavor but you'd like to wean off the nicotine strength until you've fully tapered off, vaping is ideal.
The Nicotine Buzz Can Be Unpleasant
Though millions upon millions of people very much enjoy the buzz brought on by inhaling nicotine smoke or vapor, many people can get sick from it. From feeling lightheaded and nauseous or even dizzy, most smokers or vapers out there remember their first buzz - it hits you like a freight train. No one enjoys feeling sick or upset to their stomach, and so vaping 0mg vapor juice is a great way to enjoy all that the vaping experience has to offer without any of the nicotine-associated drawbacks.
Find Good Vape Juice At Great Prices Through Sunshine Vape
Whether you vape 0mg vape juice or you prefer e-liquid with nicotine, Sunshine Vape has the best vapor juice online and in the Warwick and South Kingston areas. Get the best deals on our discount vape juice by shopping our vape supply store today!