Some Of The Strangest E-Liquid Flavors We've Seen
Some Of The Strangest E-Liquid Flavors We've Seen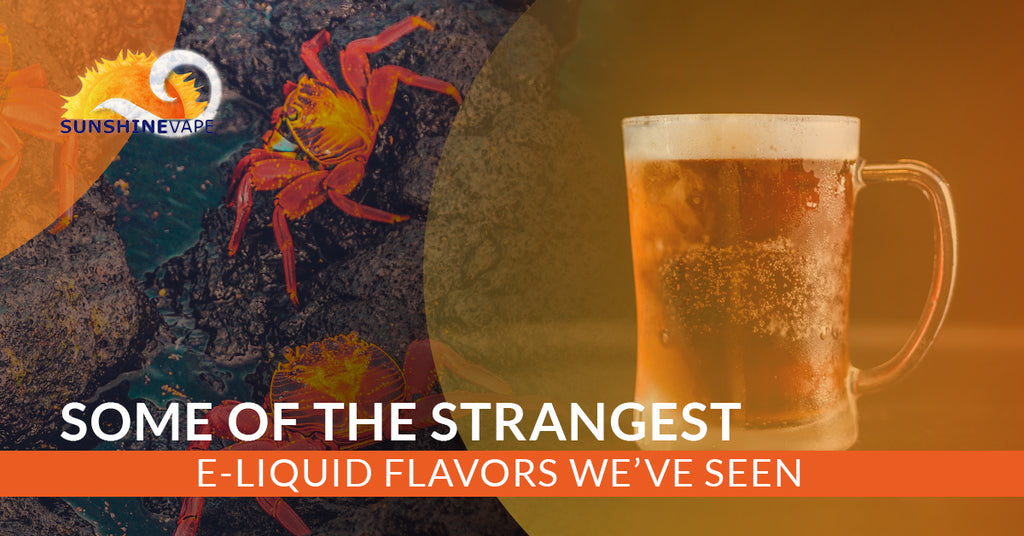 Call us a little bit biased, but we think that vaping is great. Want the flavor and satisfaction of dessert without all of the calories? Vape some key lime pie or some strawberry shortcake. In the mood for a big ol' pile of flapjacks? Just get a pancake and syrup-flavored e-juice from our online vape supply shop and you're well on your way. You see, unlike smoking tobacco or cigarettes, vaping offers a massive selection of delicious and tantalizing flavors to choose from. While tobacco might come in different styles, the flavor combinations and possibilities with vaping e-juice are, more or less, limitless.
Your Rhode Island Vape Supply Experts
Now, due to this massive variety of flavors out there, that means that you'll come across some fairly...odd vape juice flavors. From pure bacon to sweet potato casserole (yes, these are actual flavors), your vape shop specialists here at Sunshine Vape are here to go over some of these interesting novelty e-juice flavors in another vape-centric blog post. Interested in checking out some of the many vape liquid flavors we carry? Feel free to shop our e-liquid selection today.
Butter
Who doesn't love some delicious butter? Well, enjoying food cooked in butter is one thing, and eating melted butter on movie theatre popcorn is also acceptable. But vaping juice for the butter flavor itself? That's a bold move, cotton. Of course, we're not here to judge you on your flavor preferences, but pure butter-flavored e-liquid is an interesting choice, to say the least. As e-liquid with nicotine or without, butter is sure to be an impressionable buzz.
Crab Legs
Who invents all of these novel e-liquid flavors? We're not exactly sure how to answer that question, but somehow, somewhere, someone thought that there should be a crab leg-flavored e-liquid. Perhaps it is better to simply ask "why not?" than "why?", and this vape flavor proves that. Unsurprisingly, crab leg-flavored e-liquid has a strong seafood-like smell, akin to walking through a fish market on a hot, humid summer day. How....unique? We're not sure how to characterize this flavor, except to say that it's just as bold as the butter flavor, if not even bolder. But hey, at least the two flavors go hand-in-hand, right?
Beer
If you're a beer connoisseur and you're reading this, you might be wondering "Is the beer flavor like an IPA, a malty stout, or maybe a fruity wheat beer?" Nope. It's just "beer." If you want your place to smell like an old dive bar, then go ahead and vape this juice, but we don't really recommend it. Consider vaping different flavors outside of a local brewery or something if you're looking for a beer-infused vaping experience.
Vape Fun and Tasty Flavors With Sunshine Vape
At Sunshine Vape, our Warwick and South Kingston vape shop has a huge selection of great vape flavors to try out. Feel free to come on down and get a feel for what you like best, or if you already know what you enjoy vaping, shop our vape juice with nicotine online today!