Additional Considerations For a Safe Vaping Experience
Additional Considerations For a Safe Vaping Experience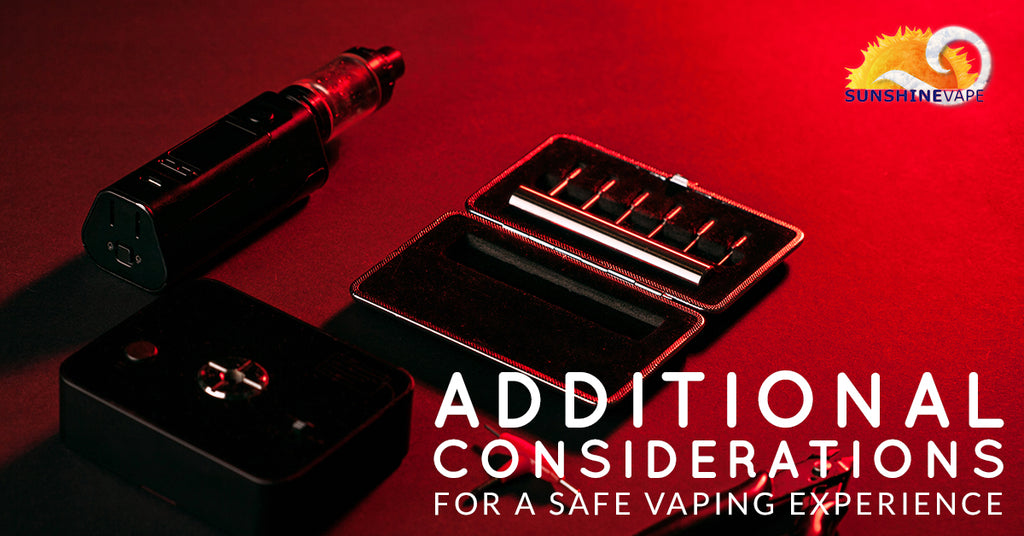 If you're here, then, well, you're probably vaping. First of all, let us begin by congratulating you! Whether you're seeking a nicotine delivery system that's not tobacco-based or you've quit cigarettes after years and years of smoking, making the switch to vaping will benefit your life in many incredible ways. However, at the same time, if you're going to do something, you should do it right. That's why here at Sunshine Vape, we encourage our fellow e-cigarette users to vape the smart way: With etiquette and safety in mind.
Sunshine Vape Shop Has South Kingston and Warwick RI Covered!
Our online vape shop has covered various vaping etiquette pointers in the past, and we've also lightly touched on some vaping safety considerations. To help prevent you from being the point of ridicule in a local news headline — or worse, the victim of an unforeseen accident — our online vape supply specialists are going to continue touching on some crucial vaping safety information.
If you're nearby in the Warwick and South Kingston areas of Rhode Island, feel free to drop by our vape shop and get to know the owners of Sunshine Vape in person! Of course, you can always shop our online vape store at your convenience.
Don't Modify Your Battery or Mod
Unless you're an electronics expert or you really know what you're doing — but even then — you should never tinker with or modify your vaping device. If you want to run more power to your atomizer, it's much safer and smarter to simply pick up a newer, more powerful battery that's actually designed to reach power levels up to a certain wattage as opposed to "overclocking" your vape battery, if you will.
Avoid Third Party Replacement Materials
If you're in search of a new charger or replacement batteries for your vape mod (that is, if the device takes external batteries), make sure that you're getting ones that are directly approved from the manufacturer. Using cheap, knock-off electronics is a recipe for a circuitry disaster, leading to malfunctions down the road. Contact the manufacturer of your vape in order to obtain the exact make and model of the batteries and charger that you need, or let our friendly experts at our Rhode Island vape shop assist you.
Don't Vape and Drive at the Same Time
We're not trying to undermine your ability to multitask, but when it comes to multitasking at the wheel...just don't. Distracted driving is inherently unsafe, and though you can probably take a few puffs while waiting at a stoplight, vaping while you're in motion prevents having two hands on the wheel. This sounds like a fairly silly safety pointer, but it's worth saying. It's incredible what people will do while they're driving, and quite frankly, terrifying.
Don't Use Your E-Liquid Container For Anything Else But E-Liquid
If you're a hot sauce enthusiast, as many of those in the vaping community tend to be, you might want a convenient way to "drip" hot sauce on your food. Please, do not fill an empty juice bottle with anything other than more e-juice. Not only can residual e-juice get in your hot sauce, or whatever you fill the empty juice bottle with, but you may also forget what's in there...and attempt to vape, dare we say it, hot sauce. It sounds pretty outlandish, but it's happened before. Keep the vaping equipment strictly for vaping.
Shop Our Vape Store Online at Sunshine Vape Today!
Safe vaping knowledge coupled with some of the very best online vaping deals is a surefire way to vape like a pro. From beginning e-cigarette users to experienced vapers, Sunshine Vape in Warwick and South Kingston RI has all the vape supplies for sale that you need! Shop our main collection of e-juice for sale and other vape gear today.